Top 15 private Engineering Colleges Odisha
Odisha state is on the eastern coastal belt of India. It is a well-known education hub in the country. Bhubaneswar is the capital city of Odisha. It contains Top 15 private Engineering Colleges Odisha or Top private engineering colleges, which imparts quality education to the students. Students love to pursue professional courses such as Engineering, Pharmacy, Medical, MBA, BBA, Nursing, BA LLB in Odisha. Students from all over India come to join these courses. Odisha has 73.45% people literate .
Importance of Engineering
[vc_row][vc_column][vc_video link="https://www.youtube.com/watch?v=2k0JJteeq4U"][/vc_column][/vc_row]
At long last here you can get report on Top 15 private Engineering Colleges Odisha/ Top private engineering colleges.
C V Raman College of Engineering, Bhubaneswar
An innovator in specialized instruction, C. V. Raman College of Engineering has risen as a high seat of learning with a humanistic way to deal with life. www.cvrce.edu.in
Institute of Technical education and research, Bhubaneswar.
Institute of Technical Education and Research (ITER) is the Engineering School of Siksha 'O' Anusandhan University ITER has been ranked as the best
Engineering College in Odisha. www.soa.ac.in/iter
Kalinga Institute of Industrial Technology, Bhubaneswar
KIIT Group of Institutions is a group of institutions run by KIIT Education Society in Bhubaneswar, Odisha, India. It includes KIIT University, Kalinga Institute of Medical Sciences, Kalinga Institute of Social Sciences and other institutes. www.kiit.ac.in
Gandhi Institute of Engineering and Technology, Gunupur
Gandhi Institute of Engineering and Technology University is a university located at Gunupur, in the state of Odisha, India. The Odisha government issued a gazette notification for award of the university status to GIET Gunupur in December 2018.  www.giet.edu
Gandhi Institute for Technology, Bhubaneswar
Gandhi Institute For Technology, Bhubaneswar is a private engineering institution located in Bhubaneswar, Odisha, India. The institute is BPUT affiliated and has been approved by AICTE. GIFT is a ISO 9001:2008 certified institute. www.gift.edu.in
Centurion university of  Technology and management.
Centurion University of Technology and Management is a multi-sector, private state university from Odisha, India. With its main campus at Paralakhemundi in the Gajapati district and another constituent campus located at Jatni, on the fringes of Bhubaneswar. www.cutm.ac.in
Silicon Institute of Technology, Bhubaneswar
The Silicon Institute of Technology, Bhubaneswar is an engineering institution in Bhubaneswar, the capital of Odisha, India. Established in 2001 as an affiliated college of the Utkal University, the college has been an affiliated college of Biju Patnaik University of Technology, since 2002. www.silicon.ac.in
Trident Academy of Technology
Trident Academy of Technology, a name that has become a brand in the field of technical education, is today synonymous with excellence. www.tat.trident.ac.in
Hi- tech college of engineering
Hi-Tech college of engineering is a top engineering college in Bhubaneswar, Odisha welcomes the ambitious aspirants to its abode of learning. www.hce.ac.in
Radhe Krishna Institute of Technology & engineering (RITE)
The Radhakrishna Institute of Technology and Engineering (RITE) is a JRG Educational Trust initiative. The trust takes its roots from the life and philosophy of noted social worker and philanthrope Jagdish Raiji Gupta. The objective of the trust has been to impart education to all strata of the Indian society and to equate the Indian educated youth with the heights scaled by their counterparts abroad. www.riteindia.in
Eastern Academy of Science & Technology  (EAST)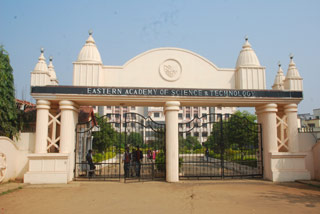 The Eastern Academy of Science and Technology, Bhubaneswar, is a private technical institution situated in Orissa, India. The college is on the banks of the dried river Prachi at Phulnakhra in Bhubaneswar. www.eastodissa.ac.in
Konark institute of science & technology  (KIST)
Quality Education with adequate Technical exposure, critical thinking and quick problem solving are some of the key ingredients of success in current scenario where we are witnessing a highly dynamic industry with technologies and working standards changing rapidly. www.kist.ac.in
Krupajal engineering college (KEC)
Krupajal Engineering College, Bhubaneswar, also called KEC is an engineering institution in the Eastern Zone of Odisha, in 1995 under the Krupajal Group of institutions. The college certifies to ISO 9001:2000 and A grade engineering college rated by NACC. www.krupajal.ac.in 
Aryan institute of  engineering & technology
Aryan Institute of Engineering and Technology(AIET) is one of the premier engineering colleges in the self-financing category of Engineering education in eastern India. It is at temple city Bhubaneswar, Odisha and is a constituent member of Aryan Educational Trust. www.aryan.ac.in
Templecity institute of technology and engineering
"THE TEMPLECITY INSTITUTE OF TECHNOLOGY AND ENGINEERING" (TITE) under The KNOWLEDGE TRUST (KT) at KNOWLEDGE CAMPUS is AICTE approved & affiliated to BPUT. www.tite.ac.in
Conclusion to Top 15 private engineering colleges odisha:
Finally we are going to the conclusion about "Top 15 private Engineering Colleges Odisha/ Top private engineering colleges" below
Any engineering field is great given one has the frame of mind, inclination and enthusiasm to seek after and the College has sound framework including staff, research center and great situation track record.
Pick a field that suits you and do full equity while considering. All the best.
For admission related queries please contact on our toll free no 1800 123 89  5400