Top Medical Colleges/ Universities Odisha
Previously a neglected aspect of the Indian Central government, Education in Odisha is witnessing a rapid transformation. Its capital city, Bhubaneswar, is emerging as a knowledge hub in India with several new public and private medical colleges/ universities, including the establishment of an AIIMS, Government Medical College & Hospital (Renamed as Bhima Bhoi Medical College & Hospital), Balangir ,Government Medical College & Hospital (Renamed as Fakir Mohan Medical College & Hospital), Balasore after five decades of demand.Apart from those Medical Colleges/ Universities there are 12 MCI approved top medical colleges/ Universities odisha. Students love to pursue professional courses such as Pharmacy, Medical, Nursing, BDS, Agriculture in Odisha. However here Utkal Academy provides some top MBBS Colleges/ Universities Odisha.
12 MCI approved medical colleges/ universities odisha
AIIMS Bhubaneswar is situated outside the city of Bhubaneswar. It was built on about 100 acres of land in the Sijua neighborhood of Bhubaneswar. The AIIMS – Bhubaneswar is divided into three sections: a hospital, medical college, and student housing. 978-bed AIIMS Bhubaneswar was inaugurated by Union Health and Family Welfare Minister Gulam Nabi Azad on 26 February 2014.The AIIMS Campus extends over 150 acres, consisting of the hospital complex and residential area. The hospital complex consists of a 900-bed multi speciality hospital with 41 departments. The Academic Area present in the complex houses the Academic Block, College of Nursing and Central Library. The Academic Blocks consists of 4 Lecture Halls and Departmental Labs of Anatomy, Physiology, Biochemistry, Pathology , Microbiology , Pharmacology , Forensic Medicine, Community Medicine. All the 41 departments have departmental cabins, labs, library room as well as conference rooms. A stationery and snacks outlet is also housed in the Academic Building. The Academic Building also houses the offices of Director, Dean, Admin and other staff departments like Finance, Electric, Engineers and the central library. The residential complex consists of three Boys hostels and two girls Hostels for Undergraduate Students of MBBS, Nursing and Allied Sciences. The hostels have an 800 room capacity. Four Postgraduate Hostels along with four Staff and Faculty Blocks are also present. The Director's Bungalow and Guest House is located near Main Residential Gate. This is the Top MBBS Colleges/ Universities Odisha list no. 1.
The college is situated in a sprawling area of 21.02 acres with the attached hospital at a distance of 5kms away from it within the township of Balangir. The hospital is laid in an area of 12 acres. At the college site, the academic block, administrative block, auditorium, faculty and staff quarters, UG-Boys' hostel, UG-Girls' Hostel, Residents' Hostel, cafeteria, playground, gymnasium etc, have been established.
The hospital has 300 beds with service facility of all the regular clinical departments along with ICU, ICCU, SNCU and separate OPD for each clinical department. And this is no.2 in the list.
[vc_row][vc_column][vc_video link="https://youtu.be/Ucx2go31J4Q"][/vc_column][/vc_row]
Paying tribute to legendary Odia poet and novelist Fakir Mohan Senapati, he said the state government is committed to providing quality health service to all the citizens of the state. The admission for 100 MBBS seats in the medical college has already begun for the 2018-19 academic session.
The IMS – Institute of Medical Sciences (the college wing) is the best medical college in the state of Odisha. It has six lecture theatres with e-teaching facilities and many more. The college has its own library with internet cafe, and the campus is supported by full-time high-speed wi-fi. SUM Hospital has 1200 beds and provides general and super speciality medical services. The hospital has an intensive care unit, the largest such unit in Odisha, and a special N-ICU for neonates.An accidental fire incident occurred in the evening of 17 October 2016, with the deaths of 12 people confirmed the following day. It was latter confirmed that no death was due to the fire. Deaths occurred due to the hustle in the incident
Hi-Tech Medical College & Hospital (HMCH) is a private, profit, self-financing medical institution based in Bhubaneswar, Odisha, India. Hi-Tech Medical College & Hospital is functioning from 2005 under Utkal Universityaffiliation and recognized by Medical Council Of India. It is Odisha's first private medical college. It has 400 Teaching beds with operation theaters along with 20 intensive care beds with 24hrs with trauma care facility. College offers MBBS and BDS course for duration of 5 years and also Post Graduation for duration of 3 years.
Recent Posts:
Study MBBS in India's Top Medical Colleges
Hi-Tech Medical College & Hospital (HMCH) is came at number 6 in the list of Top MBBS Colleges/ Universities Odisha. This is a private, nonprofit, self financing medical institution, pledged to the service of the community, caters to the health care needs of the people in general and especially to the needy, underprivileged, suffering section of humanity in particular. The hospital and college complex has been raised on an area of 20 acres under Vigyan Bharati Charitable Trust. The college is situated near Hanuman Vatika, R.G.H Campus, Rourkela – 769004.
Here at number 7 of Top MBBS Colleges/ Universities Odisha, KIIMS placed. The idea of a medical college (KIMS) was conceived by Achyuta Samanta. Construction of the college building was completed in 2004, the faculties were appointed. Initially, the hospital was a makeshift facility in the Godown area of the former MAGNETIC company. This hospital was extended to take up more indoor patients and service was improved.
In June 2005 the new hospital building was complete. The hospital acquired new equipment like a CT scan.
2006 saw the beginning of the inspection processes by the MCI and in June 2007 KIMS was formally given permission to start MBBS course.
The institute was earlier affiliated to Utkal University, however in 2009 in came under the ambit of KIIT University. In 2013, KIMS got permanent affiliation from Medical Council of India (MCI).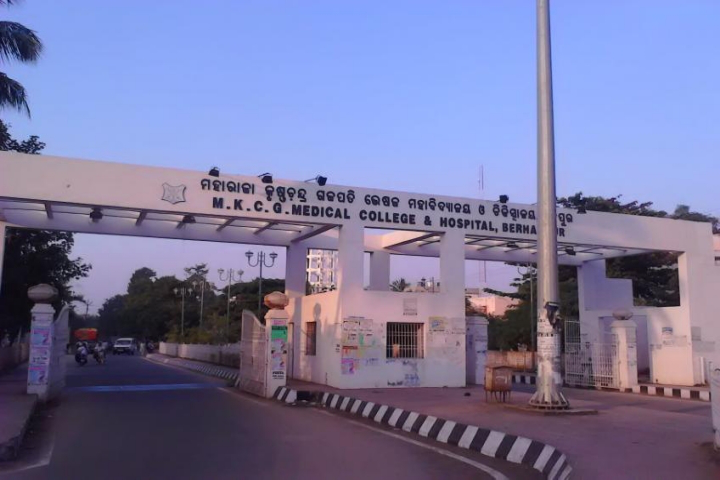 The MKCG Medical college offers the four and half year MBBS course with one year compulsory rotating internship in affiliated hospitals to a maximum of 250 students per year.
Admission to this college in MBBS course is extremely competitive and strictly on the basis of merit. Out of 250, 38 seats are filled through national quota of National Eligibility cum Entrance Test conducted by the CBSE and the remaining 212 seats are filled through the state quota of the same exam held every year.
It operates with 23 clinical departments, 8 non-clinical and para-clinical departments and with 1190 beds. A tele-medicine unit, provided by the ISRO, is operational.
It imparts medical education to 250 undergraduate students, 116 post-graduate medical students, 2 DM (cardiology) anf 2 DM (endocrinology) superspeciality students, 80 diploma students in medical laboratory technology and 30 diploma students in medical radiation technology.
MKCG Medical College and Hospital, being the only major medical institution in Southern Odisha, also serves as a referral hospital.
Pandit Raghunath Murmu Medical College and Hospital is a full-fledged tertiary Government medical college in Baripada, Odisha. The college imparts the degree Bachelor of Medicine and Bachelor of Surgery (MBBS). It is recognised by the Medical Council of India. The hospital associated with the college is one of the largest in the Mayurbhanj district.
Selection to the college is done on the basis of merit through the National Eligibility and Entrance Test. Yearly undergraduate student intake is 100. The college was inaugurated in 2017 by Odisha chief minister Naveen Patnaik.
The Saheed Laxman Nayak Medical College & hospital was started in Koraput district as Dispensary in 1908 in an Old Building. It was upgraded to Local Fund Hospital in 1937 with 47 beds. It was shifted to the present building on 25.10.2004 with 188 functional beds. Now it has 300 functional beds.
Based on the scheme of Government of India, Government of Odisha has decided to upgrade this hospital into Medical College Hospital in view of benefit of patients not only in the undivided Koraput district but also other backward districts like Kalahandi, Nuapada as well as the two neighbouring states of Andhra Pradesh and Chhattisgarh. This hospital is now named as Saheed Laxman Naik, Medical College Hospital, Koraput, Odisha.
This is the most popular college in the list Top MBBS Colleges/ Universities Odisha. SCB Medical College & Hospital is the premier medical institution in Odisha and one of the oldest centers of medical teaching and training in India. It is located near Mangalabagh area in the heart of the city Cuttack with a sprawling campus of 87.32 acres (353,400 m2). It has been recognized by Medical Council of India (MCI) as an ideal undergraduate institution facilitating education and training in super specialty subjects under medical and surgical disciplines.
The last college of the list Top MBBS Colleges/ Universities Odisha is Veer Surendra Sai Institute of Medical Sciences and Research (VIMSAR), formerly Burla Medical College (BMC) and Veer Surendra Sai Medical College and Hospital (VSSMCH), popularly known as VSS, is a government-run medical college and hospital in the Indian state of Odisha. Established in 1959, it imparts medical education at both the undergraduate and postgraduate levels.
Conclusion- Top MBBS Colleges/ Universities Odisha:
Here you got the list of Top MBBS Colleges/ Universities Odisha above. We here gave you some college lists to kick start your dream career to become a Doctor.
Recent Posts:
NEET Counselling 2019- First round starts